Today I am here to tell you about
The Accident
written by Chris Pavone. I received this novel through the Blogging For Books program for an honest review: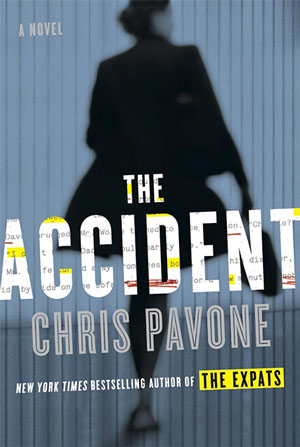 In short, this novel follows the character Isabel Reed who finds a manuscript full of secrets that could potentially destroy many of the people holding high authority positions in our government. Pavone also writes in short chapters about each individual involved with this situation, and how they are trying to stop or encourage the publication of this novel.
Now for the opinions.
Books can be dangerous and used as weapons, don't doubt the power of a good book.
The cover is beautiful, very Sherlock-esque and it feels nice. I like the colors and the simplicity. There lettering doesn't distract the eye, and adds a seriousness to be expected within the pages.
This book is fast paced once you get into it, and I believe I particularly enjoyed it because of how many people were involved in the danger surrounding the manuscript. I think that this novel may be difficult for some because of that reason, especially if they aren't used to confusing plots. If you watch shows like Game of Thrones, or Criminal Minds it will be fairly easy to follow in that sense.
I also enjoyed the challenge that came along with paying attention to details, with me being fresh out of school I pick up on these sneaky bits and get all happy inside. Chris Pavone did a marvelous job, and I will surely pick up another one of his novels in the future.
Overall: 4 out of 5 stars!
Keep reading, you must.
-Erinn xx